Is your relationship in a rut or just needs a bit more spice?
Giving your partner a regular Romantic Massage can do wonders for your relationship.
Using our simple illustrated full colour guide you can start tonight.
Once you have learnt how to give your partner a romantic massage and shown them how to massage you, your relationship is bound to improve.
Version 3 NOW available.
Romantic massage for lovers of all ages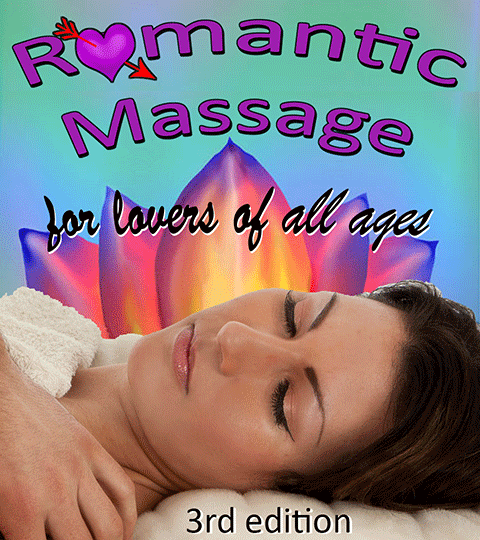 Massage has been tried and tested over thousands of years. Physical touch strengthens emotional bonds and builds mutual trust - it can turn a failing relationship into a strong one - even help you to express your feelings or save a partnership.
Romantic massage for lovers of all ages is an easy to follow guide with lots for full colour images.
Fancy a romantic massage?
How do you feel about massage - and in particular a romantic massage? You may enjoy going on your own to a beauty spa or even a massage therapist but have you considered what shared massage could do for your relationship? Romantic massage is all about sharing a delightful, loving experience together. And it's not that difficult to do - simply follow the chapters in this beautifully illustrated book together - you'll soon wonder how you managed without it. Think about the benefits of Romantic Massage:
1) Strengthen the bond between you and your partner by building on the trust between you.


2) Spice up your relationship and improve your sex life - gentle stroking touch can be very sensual.


3) Learn how to enhance your relationship by sharing time together - far better than watching the TV!


4) If you feel your relationship is getting a bit stale, romantic massage can rejuvenate your relationship. Have some fun and share some intimate time together.


5) One important part of a loving relationship is to support each other. Giving and receiving pleasure will strengthen that bond and teach you skills and joy that will last a lifetime.


6) Touch is one of the most important things in any relationship whether it be parent and baby or loving partners and it strengthens the bond between you.


Did you know that not only does massage improve your sexual relationship, it can improve your health as well? Massage used to be a common practice in hospitals as it was found to speed the healing process, and this is why:
1) Massage reduces muscle tension and therefore reduces aches and pain.


2) It improves circulation, especially in the legs and feet.


3) Therapeutic massage stimulates the lymphatic system, enabling waste products and toxins to be removed from the body.


4) It reduces stress hormones and therefore improves the immune system.


5) If you are an insomniac, massage can bring on relaxation enabling better sleep.


6) It increases joint mobility and flexibility.


7) Massage, particularly on the face, can improve skin tone and elasticity.


8) As mentioned before, used in the right way, massage can help in the healing of soft tissue injuries. Don't, however use it over broken bones or diseased areas.


9) Although massage is relaxing, it can also heighten mental alertness, usually the following day.


10) And last, but not least, massage can reduce anxiety and depression by bringing about the release of endorphins.


So, how do you learn how to give your partner a romantic massage and how to get them to reciprocate.

All the information you need is in the latest version 3 of the Romantic Massage ebook.

Get it now and get ready for more of what you deserve.
The Romantic massage ebook is available for instant download.
This ebook is provided in Portable Document Format or PDF format and can be read/viewed on any computing device (including desktops, tablets, smart phones) that can display pdf documents.
If your device cannot currently display pdf files, you can download a free reader Adobe Reader or other PDF reader app for your device.